Details:
Black EPDM (Ethylene Propylene Diene Monomer) glove. Excellent chemical properties, good mechanical properties, electrostatic dissipative glove in accordance with the standard EN 16350. Good resistance to disinfectants used in the pharmaceutical industry. Composition in accordance with the FDA positive list.
Due to its good electrical conductivity the glove is also suitable for use in explosive areas these EPDM gloves are autoclavable.
EPDM gloves made to fit 192mm, 250mm and 300mm circular ports in medium, heavy and lightweight.
Characteristics
High quality material, in compliance with FDA CFR21
Designed for repeated autoclave sterilization reducing the need for glove replacements
Comfortable and dexterous with great tactile sensitivity
Resistant against hydrogen peroxide solutions and common disinfecting chemicals
Resists aging from exposure to oxygen, UV rays and ozone
Withstands temperatures up to 130ºC for repeated sterilization
Available port sizes fit most isolator glove boxes
Fields of Application
Microelectronic/Wet Chemistry
Life Sciences (Pharmaceutical/Medical)
Nuclear Industries
Standards:
All of our gloves adhere to the following standards EN 421-1994, EN 374-1-2003 and EN 388-2003 and Comply with European Directive PPE Category 3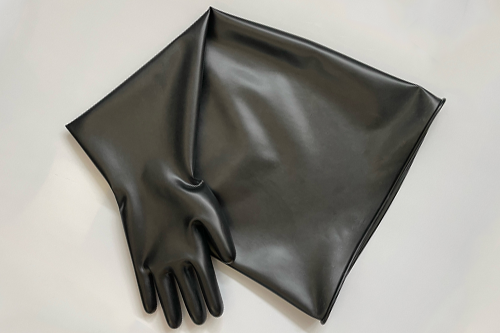 Interested in these Gloves?
We can supply gloves in various quantities and sizes to suit your requirements. Call 01329 847443 or message us today for more info.